The BDM 6x2P disc harrow is designed for surface tillage to a depth of up to 12 cm, weed destruction, grinding and embedding of crop residues in the soil, cutting of finches and half-steam, pre-sowing treatment, moisture preservation.
The disk harrow is a semi-trailer (semi-mounted) disk tool with a 2-row arrangement of disks on individual racks. The working body is a spherical disc of BDM with a diameter of 560 mm from Bellota (Spain), a reinforced bearing assembly (BDM bearing housing), a rack of the working body with a lubricant "bushing-rack". Mechanism for setting the angle of attack of each row of disks. The complete set of the disk harrow with a spiral loop-roller allows you to smoothly adjust the depth of processing without changing the angle of attack of the disks.
A distinctive feature of the harrows is the folding design.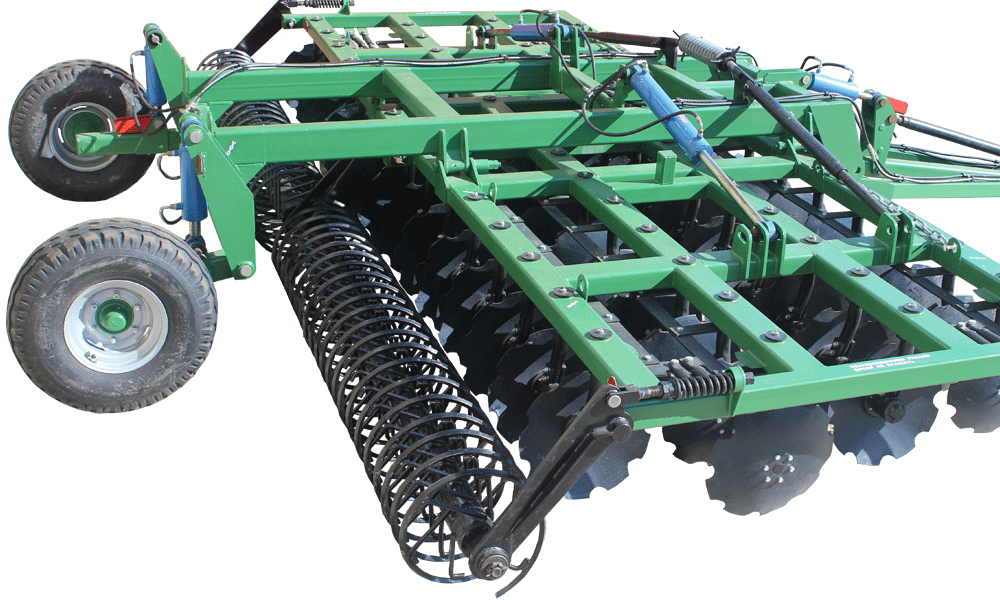 Each disk is located on an individual axis, each row of disks has the ability to adjust the angle of attack (from 0 to 30 degrees) and, accordingly, the working width of the disk grip. At the same time, the disk acts as a ploughshare and a blade, which contributes to a better turnover of the cut layer, its crumbling, as well as reducing the required traction force of the tractor. The rack has a groove for lubrication.