Chisel cultivators are designed for chiselling woks, decompaction of plow pans without turning of soils and damaging stubbles; they also contribute to improvement of air and water conditions in the root layer and create suitable environment for moisture accumulation in soil in autumn and winter, which plants will require during their future vegetation periods; they also help prevent soil erosion, are used for cultivation of fallow lands, forage lands and spaces between rows in gardens and vineyards.
Mounted chisel cultivators are the most effective in use on consolidated and heavy, in terms of their texture, soils. The chisel cultivators should be used 3 – 4 times a year.
Chisel cultivators are equipped / completed with operating elements and tools, manufacture by "Bellota", Spain. Shear bolts, made in Germany, ensure the highest degree of protection of the tools, elements and the frame from damage and fractures.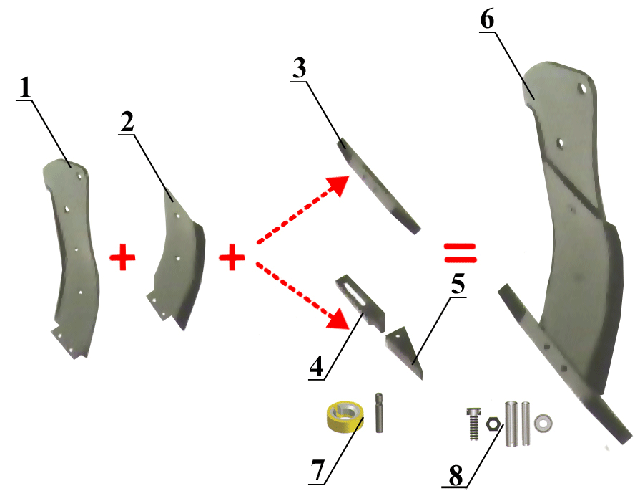 1 - Tine 15010-B-D/I CA; 2 - Protection 15008-B-D/I CA; 3 - Blade 15009;
4 - Handle 15009-МА; 5 – Replaceable tip 15009-РА; 6 – Tine assembly 15010.000;
7 – Connecting kit "Handle (4) - Tip (5)" 15009-KIT;
8 – Assembly kit 15015-Т